Description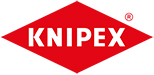 Knipex Xmas Tool Set 3 Piece 125mm Cobra Water Pump Pliers & Folding Knife 00 20 72 S6
00 20 72 S6 Christmas 2021 Special Bundle
Contents:
87 01 125 KNIPEX Cobra® High-tech Water Pump Pliers 125mm:
Push the button for adjustment on the workpiece
Fine adjustment for optimum adaptation to different sizes of workpieces and a comfortable handle width
Self-locking on pipes and nuts: no slipping on the workpiece and low handforce required
Gripping surfaces with special hardened teeth, teeth hardness approx. 61 HRC: high wear resistance and stable gripping
Box-joint design for high stability due to double guide


Reliable catching of the hinge bolt: no unintentional shifting




Pinch guard prevents operators' fingers being pinched




Chrome vanadium electric steel, forged, multi stage oil-hardened

16 20 50 KNIPEX Folding Knife for Electricians:


High-quality all-purpose knife

00 19 72 LE KNIPEX Belt Pouch for 2

Pliers
For two pliers up to 150 mm length


Made of hard-wearing polyester fabric




With hook-and-loop fastener




With elastic side holder for small flash lamp, pen or suchlike




With practical belt clip




Bag without tools
Payment & Security
Your payment information is processed securely. We do not store credit card details nor have access to your credit card information.