Description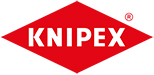 Knipex Farriers Pincers Tear Off Pliers Small Head and Anvil 20mm Head Width 300m 55 00 300

55 00 300 Farriers' Pincers
The ideal pliers for the farrier. With small head and anvil for redirecting horseshoe-nails. Also suitable for dismantling work in vehicle body workshops. Cutting edges additionally hardened; cutting edge hardness approx. 59 HRC.

Head width (W3): 20.0 mm
Cutting edge length mm: 20 mm
Technical Information:
The ideal pliers for the farrier
With small head and anvil for redirecting horseshoe-nails
Also suitable for dismantling work in vehicle body workshops
Cutting edges additionally hardened
Cutting edge hardness approx. 59 HRC
Downloadable Files: