Description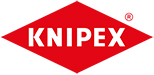 Knipex Notching Pliers for Plastic Casings Cable Ducts Opening Spring 250mm 16 x 32mm 90 61 16

90 61 16 Notching Pliers
Special pliers for notching recesses into plastic ledges and plastic casings for electric and plumbing installation. Notches can be enlarged by initial and final cut. Clean cut edges - no trimming activities needed. Easy handling. With opening spring, opening limiter and locking lever.

Capacity: 16 x 32 mm
Technical Information:
Special pliers for notching recesses into plastic ledges and plastic casings for electric and plumbing installation
Notches can be enlarged by initial and final cut
Clean cut edges - no trimming activities needed
Easy handling
With opening spring, opening limiter and locking lever
Downloadable Files: