Description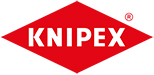 Knipex Self Adjusting Electricians Crimping Pliers for Wire Ferrules 0.08-10mm² 28-8 AWG 95 55 14

97 55 14 Self-Adjusting Crimping Pliers for wire ferrules
narrow handle width and improved ergonomics. For crimping wire ferrules according to DIN 46228 parts 1 + 4. Self-adjustment to the size of wire ferrules required. Repetitive, high crimping quality due to integral lock (self-releasing mechanism). Tools have been set precisely (calibrated) in the factory. Optimum transmission of force thanks to toggle lever for fatigue-reduced operation. Handy shape and low weight provide high operation comfort. Expanded capacity of hexagonal crimping up to 10 mm². hexagonal compression for confined connection dimensions. suitable in particular for all twin wire ferrules up to 2 x 4 mm² or 2 x AWG 12.

Applications: Wire ferrules
Capacity in square millimetres: 0.08 — 10 mm²
Number of crimping positions: 1
AWG: 28 — 8
Technical Information:
For crimping wire ferrules according to DIN 46228 parts 1 + 4
Self-adjustment to the size of wire ferrules required
Repetitive, high crimping quality due to integral lock (self-releasing mechanism)
Tools have been set precisely (calibrated) in the factory
Optimum transmission of force thanks to toggle lever for fatigue-reduced operation
Handy shape and low weight provide high operation comfort
Downloadable Files: