Description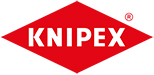 Knipex Stripping Knife with Guide Shoe VDE Insulated 1000V 38mm Blade Length 180mm 98 55 SB

98 55 SB Stripping Knives
Ergonomically designed handle shape with comfortable slip guard. Particularly confident grip thanks to slip-proof soft components. Thumb recess and "finger hook" at the end of the handle ensure a good transmission of force when the blade is pulled. Transparent protective cap. self-service card/blister.

Blade length: 38 mm
Radius: 23.5 mm
VDE tested: yes  
Technical Information:
Ergonomically designed handle shape with comfortable slip guard
Particularly confident grip thanks to slip-proof soft components
Thumb recess and "finger hook" at the end of the handle ensure a good transmission of force when the blade is pulled
Transparent protective cap
Downloadable Files: