Description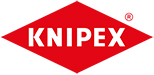 Knipex TwinGrip Slip Joint Water Pump Pliers 200mm 82 01 200

82 01 200 KNIPEX TwinGrip
Unique combination: Front grip and side grip function, box joint, push button adjustment. Very slim pliers let you work even in confined installation spaces with a narrow turning zone for fast results. High-grip front jaw with robust teeth and high gear ratio at the tip of the mouth. Large front and side gripping capacity for diameters and widths across flats 4 - 22 mm. Reliable front gripping of flat workpieces due to the three-point system. Gripping, tightening and loosening screws with worn heads and threads. Five-way adjustable slip joint with push button adjustment for precise adjustment of gripping capacity. Pinch stop reduces the risk of crushed fingers. Durable and resilient due to the robust box joint.

Adjustment positions: 5
Capacities for pipes (diameter): Ø 5/32 – 7/8 in
Capacities for pipes (diameter): Ø 4 – 22 mm
Capacities for nuts: 4 – 22 mm
Capacities for nuts: 5/32 – 7/8 in
Technical Information:
Large front and side gripping capacity for diameters and widths across flats 4 - 22 mm
Reliable front gripping of flat workpieces due to the three-point system
Gripping, tightening and loosening screws with worn heads and threads
Five-way adjustable slip joint with push button adjustment for precise adjustment of gripping capacity
Pinch stop reduces the risk of crushed fingers
Durable and resilient due to the robust box joint
Downloadable Files: