Description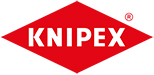 Knipex Cutting Wheel 5 Pack for Stainless Steel and Copper TubiX and TubiX XL 90 39 02 V03

90 39 02 V03 5 x Spare cutting wheel INOX Cu for KNIPEX TubiX® 90 31 02
Spare part.


Technical Information:
Downloadable Files:
Payment & Security
Your payment information is processed securely. We do not store credit card details nor have access to your credit card information.