Description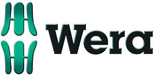 Wera Magnetic Socket Rail 3/8" Drive Twist to Unlock 9601 Empty 10 Socket Capacity 340mm
Rail with secure bit mounting and yet easy removal (twist-to-unlock) for temporary attachment on wall, shelf or workshop trolley
Smooth Twist to Unlock mechanism for a secure fit and simple removal of the sockets
Empty, for up to 10 sockets, 3/8"
1 socket rail, empty. For up to 10 sockets and/or bit sockets with 3/8" drive. The rail allows temporary attachment to metallic surfaces and, with its twist-to-unlock function, ensures secure locking and unlocking of the sockets.
Contents:
9601 Magnetic socket rail, 3/8", empty, 30 x 340 mm
Payment & Security
Your payment information is processed securely. We do not store credit card details nor have access to your credit card information.