Description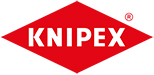 Knipex High Leverage Diagonal Side Cutting Pliers 200mm VDE Insulated 74 06 200

74 06 200 High Leverage Diagonal Cutter
For very tough, continuous use. High cutting performance with minimum effort due to optimum coordination of the cutting edge angle and transmission ratio. Precision cutting edges additionally induction-hardened (cutting edge hardness approx. 64 HRC), for all sorts of wire including piano wire.

Cutting capacities medium hard wire (diameter): Ø 4.2 mm
Cutting capacities hard wire (diameter): Ø 3.0 mm
Cutting capacities piano wire (diameter): Ø 2.5 mm
VDE tested: yes  
Technical Information:
For very tough, continuous use
High cutting performance with minimum effort due to optimum coordination of the cutting edge angle and transmission ratio
Precision cutting edges additionally induction-hardened (cutting edge hardness approx. 64 HRC), for all sorts of wire including piano wire
Downloadable Files: