Description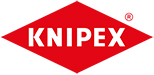 Knipex Long Reach Needle Nose Pliers 280mm 28 71 280 SB

28 71 280 SB Long Reach Needle Nose Pliers
for gripping, adjustment and assembly work in hard to reach areas thanks to slim, very long design. deep down situated parts can be easily reached using the slim, half-round tips. Careful yet reliable gripping, holding and guiding of small copper pipes, screws and cables as well as other round parts thanks to milled grooves with smooth surfaces. Serrated pipe grip to grip round parts. Particularly suitable for work in the automotive trade and in mechanical engineering. Slim yet robust tool. self-service card/blister.

Jaw thickness (joint) (T1): 9.0 mm
Tips width (W4): 3.0 mm
Tips thickness (T2): 2.5 mm
Jaw length (L3): 76.5 mm
Head width (W3): 20.0 mm
Technical Information:
Careful yet reliable gripping, holding and guiding of small copper pipes, screws and cables as well as other round parts thanks to milled grooves with smooth surfaces
Serrated pipe grip to grip round parts
Particularly suitable for work in the automotive trade and in mechanical engineering
Slim yet robust tool
Downloadable Files: