Description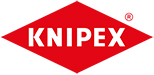 Knipex PlastiCut Cutter for Flexible Hoses and Plastic Conduit Pipe 185mm 25mm Capacity 90 20 185

90 20 185 KNIPEX PlastiCut®
For cutting thin walled plastic pipes (conduit plastic pipes) and flexible hoses, also with fabric reinforcement, of plastic and rubber up to Ø 25 mm / 1". Not suitable for cutting cables. With opening spring and locking device.

Cutting capacities (diameter): Ø 25 mm
Cutting edge length mm: Ø 25 mm
Technical Information:
For cutting thin walled plastic pipes (conduit plastic pipes) and flexible hoses, also with fabric reinforcement, of plastic and rubber up to Ø 25 mm / 1"
Not suitable for cutting cables
With opening spring and locking device
Downloadable Files: