Description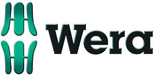 Wera Impact Socket Set 1/2" Drive 9 Piece 13-21mm 6 Point Belt C Impaktor 1
9 piece socket set on robust textile belt
Smooth Twist to Unlock mechanism for a secure fit and simple removal of the sockets
Particularly suitable for the use with customary impact drivers
With Take it easy tool finder: colour coding by size
Suitable for attachment to a wall, shelf, tool trolley and to the Wera 2go System
The impaktor technology ensures above average service life of the Impaktor socket wrench plug-ins even under extreme conditions

The hexagon profile allows the transmission of high forces and puts less strain on the edges of bolts or screw heads than a double hexagon profile. Fine toothed ratchets also make the use of a double hexagon profile superfluous, even in confined spaces, thanks to their small back pivoting angle

The all new smooth turning mechanism guarantees both secure and rattle free storage, yet allows easy removal of the tool

The robust textile belt can be secured to a belt loop or pocket by means of the snap hook

Set Contents:
13mm
14mm
15mm
16mm
17mm
18mm
19mm
20mm
21mm
Payment & Security
Your payment information is processed securely. We do not store credit card details nor have access to your credit card information.