Description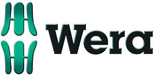 Wera Kraftform Chiseldriver Screwdriver Set and Rack 6 Piece Pozi Slotted
Chiseldriver for fastening, chiselling and loosening
Impact cap and bolster for the transfer of higher torque
Hexagonal blade extending through the handle
The Wera Black Point tip offers an exact fit and optimum corrosion protection
Storage rack for wall mounting
Screwdrivers are often misused as chisels. This can be dangerous. The chiseldriver is the solution when not only screwdriving is required. For fastening, chiselling and loosening seized screw. Wera chiseldriver: the screwdriver whenever the going gets tough

An integrated impact cap lengthens the service life and reduces the danger of splintering. Nevertheless, always wear protective goggles

A hexagon blade made out of high quality bit material extends right through the handle - thereby ensuring full transfer of force. even when struck with a hammer. The ductile tempered material prevents the blade from splintering or breaking

Greater torque can be transferred by fitting an open jaw or ring spanner over the integrated hex bolster

The Wera Black Point tip and a refined hardening process ensure long service life of the tip, improved corrosion protection and an exact fit

The hexagonal non-roll feature prevents any rolling away at the workplace

Set Contents:
Pozi PZ1 x 80mm 918 SPZ
Pozi PZ2 x 100mm 918 SPZ
Slotted 0.6mm x 3.5mm x 80mm 932 A
Slotted 0.8mm x 4.5mm x 90mm 932 A
Slotted 1.0mm x 5.5mm x 100mm 932 A
Slotted 1.2mm x 7.0mm x 125mm 932 A
Payment & Security
Your payment information is processed securely. We do not store credit card details nor have access to your credit card information.